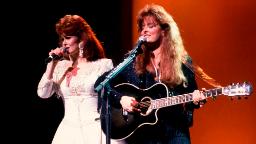 The pair carried out because the beloved nation group The Judds and Wynonna Judd talked to "CBS Sunday Morning" concerning the day her mother, who had lengthy battled melancholy, died.
"I got the call, and I went over, and I saw her and that was that. I said goodbye to her in the hospital, and I closed her eyes, and I kissed her forehead and that was that," the youthful Judd stated. "And the next thing I know, I'm sitting here on the front porch, on the side porch … you know, and I'm just tryin' to figure out what's next."
In an interview outdoors of her Nashville dwelling, Judd talked about her grief and lingering questions.
"I did not know that she was at the place she was at when she ended it because she had had episodes before and she got better," she stated. "And that's what I live in, is like, 'Was there anything I should have looked for or should I have known?' I didn't. That's why it's such a shock."
She is continuous on with "The Judds: The Final Tour" in her mother's honor, turning it into the Ultimate Girls Night Out," with star studded appearances by fellow artists including Brandi Carlile, Faith Hill, Little Big Town, Martina McBride, Ashley McBryde, Trisha Yearwood and others.
The tour had been announced just weeks before the elder Judd's death.
"I feel her nudging me. And generally, I chortle," her daughter said during the interview. "And generally, I say, 'I actually miss you. Why aren't you right here so we can argue?'"
The interview airs Sunday.